Student Activists Walkout over Sexual Assault Issues as District-Wide Tension Continues
On Friday (Jan. 13th), a group of approximately 15 students gathered by the flagpole in a planned walkout against BVSD's handling of Sexual Assault and harrasment.
CW: This article addresses issues surrounding Sexual Assault/violence. Please read at your own discretion.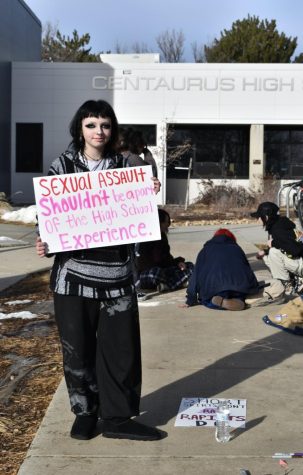 "I went to Monarch for freshman year and a bit of the first semester this year. I had a lot of experiences with harassment. I had a no contact order, which the school didn't even follow up with, and I had reported things…I think I had reported to Safe2Tell like 4 times just in that little bit of the semester." Lilith Bottomley (they/them, sophomore) spoke stoically about their experiences as their friends stood in the background, holding signs with slogans like 'sexual assault shouldn't be a part of the high school experience.' "I transferred to Centaurus [because of those issues]…" said Bottomley, "and when I came here, I realized that…nothing had really changed. Centaurus has been better for me, but, because it's under BVSD, it's not…it's the same rules." 
On Friday (Jan. 13th), a group of approximately 15 students gathered by the flagpole in a planned walkout against BVSD's handling of Sexual Assault and harrasment. The students walked out from their 1st-4th period classes, beginning outside with chalk-art protest statements on the sidewalk, then marched through the halls during passing periods  hoisting to catch the attention of students passing by. The walkout, which was announced during winter break, was organized by various student groups, including CHS Advocacy and Action and the Warrior Alliance.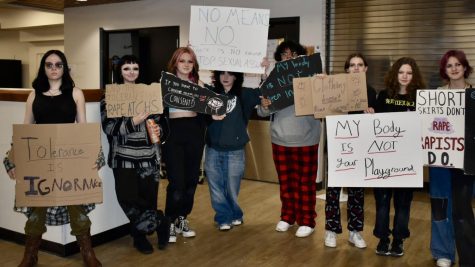 According to RAINN (Rape, Abuse, and Incest National Network), "The term sexual assault refers to sexual contact or behavior that occurs without explicit consent of the victim. Some forms of sexual assault include: attempted rape, fondling or unwanted sexual touching, forcing a victim to perform sexual acts, such as oral sex or penetrating the perpetrator's body, and penetration of the victim's body, also known as rape." Sexual assault has been an ongoing topic in recent years, and especially in the past couple months following the settlement of a federal lawsuit against BVSD for Title IX violations.  Update: As of Friday, January 13th, a former Fairview Football player has been sentenced to jail after pleading guilty to sexual assault charges. Students across the district, most notably at Fairview High School, have been dissatisfied with the approach to Sexual Assault and broader Title IX issues. "I think that [the district] doesn't look for the warning signs, like they never notice when something is going to start up. They don't listen to the people who start speaking out about it until the worst happens. So I think that within the district they need to take [preemptive] action," stated Bottomley, expanding on their earlier assertion.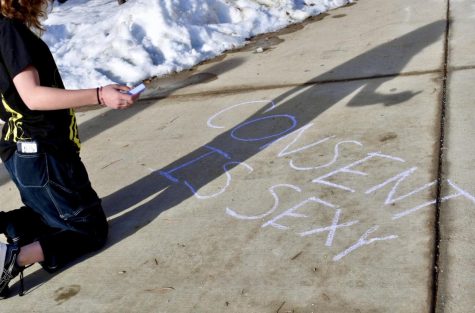 Although Bottomley and others feel they had inadequate aid regarding their experiences, BVSD has provided some response to recent concerns. In December, Title IX coordinator Elizabeth Francis held a meeting in the Centaurus library to give students more information and aimed to convey support. Shortly after, the Title IX committee produced infographics that featured the application of Title IX, a definition of sexual harassment, and a QR code to the reporting form (which goes directly to Ms. Francis' office). 
Francis later sent out a district-wide email titled "Our ongoing commitment to address sexual misconduct and harassment," in which she discussed the district's efforts to rebuild trust following "high-profile cases" such as the settlement of the Fairview case: "Over the last year and a half, we have hired new staff, updated our website to contain resources for our students and community, and trained all district building administrators and the district leadership team, school safety advocates, mental health providers, and school nurses on how to support students who report sex-based harassment. We have also provided and expanded education for our students on Title IX, the prevention of, response to, and reporting of sexual harassment, misconduct, and violence… While these are only initial steps, they evidence our commitment to this work and our progress towards responding to this community's demand that the district do better." 
Francis also attended the Friday walkout. Several students opted to join an email list she created in order to connect them to other student activist groups.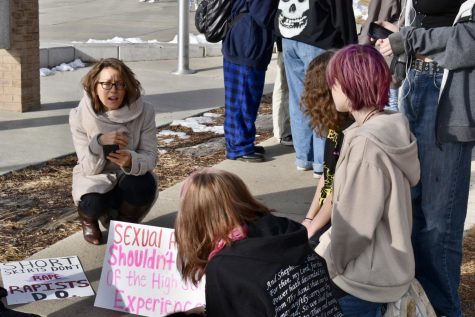 When asked what students should do about the issue, Bottomley answered, "I think students just really need to support each other. Because what I've noticed is, people take sides. [There have been] situations like these where it ends up that a lot of my friends [who have been victims] lost all their friends over it… We need to be more connected together and be not just sympathetic, but understanding."
Although Colorado-specific statistics are hard to find, on average, there are 463,634 victims (age 12 or older) of rape and sexual assault each year in the United States. According to a 2005 study, One in 10 high school girls—and one in 20 high school boys—reported being forced into sex (which may have increased since then). That's potentially 2 students in every class who have had experiences with sexual harassment/assault, and those are only the crimes that get reported—according to RAINN, only 310 out of every 1,000 sexual assaults are reported to police. (Note: unable to find BVSD or Colorado-specific statistics.) 
"After all the experiences between the two schools… something needs to be done," said Bottomley, before returning to their friends and picking up a protest sign.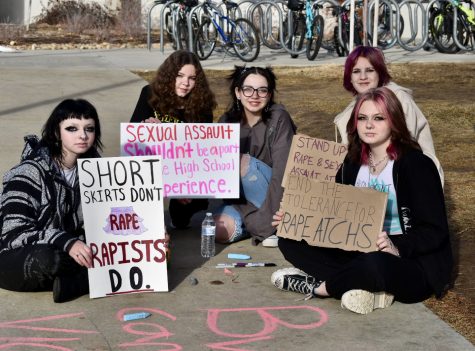 If you or someone you know needs support, a variety of resources, helplines, and organizations within the district and beyond can offer you help. These resources are listed below, as well as on the BVSD website, where you can find more in-depth explanations on the district's policies, jurisdiction, and goals. 
National Sexual Assault Hotline
Title IX Notice of Rights 2.2022.pdf(English)
SPANISH Title IX Notice of Rights (2.2022).pdf
View the gallery below to see more photos from the walkout.