Girls will be Girls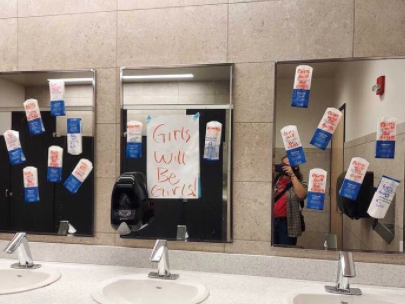 "Boys will be boys"' is a simple phrase, but this single phrase has started a major uprising and push for change in BVSD; given their policies in place. Especially at Fairview High School. This all began when, in response to multiple female students coming forward with reports of sexual harassment on campus, the former Dean of Fairview said "boys will be boys," indicating that it is not surprising or unusual when "men or boys behave in energetic, rough, or improper ways" as stated by Merriam-Webster Dictionary. Sadly, one of those improper ways is sexual harassment.
A Fairview student and her friend wanted change after hearing this news, and they began with a single poster, then more throughout the day with the same message, "Girls will be Girls". Meaning, it should not be surprising or unusual for women to fight back against the injustice they have faced especially in BVSD regarding sexual assault and sexism. By the end of the day, there were reports of 50 or more posters around the school, but they were taken down by administrators, as the messages weren't approved to be displayed. This later led to  the previously mentioned student  and others  speaking  "to the principal about how frustrated we are with admin and how there's no change happening at Fairview and that our entire high school life has been repeated sexual assault offenses and them getting away with it." She brought attention to the Aiden Atkinson case as a major example; which took place throughout last year and into this year too. It was a chance for these students to air their grievances with how the administration has dealt with these cases, especially from the viewpoint of those afflicted. 
The movement grew, and on Friday, September 10th, 2021 there was an official walkout at Fairview set up by the students to show their support for these girls. But, as one student stated, "I've heard from multiple people that adults working for the school have blatantly said they care more about saving Fairview's reputation than actually addressing the issues we're having." This means that there's a lot more work that the students, teachers, and administrators at Fairview can do in order to push for such change in the system. More importantly, students at Centaurus and other schools can do a lot to aid this change. "As far as other schools go, I'd say the main thing is to just listen. I think a lot of people in BVSD develop a bit of a savior complex when they talk about what we're going through without realizing we're under the same s****y district and every other high school deals with the same issue of rape culture and sexual assault that we do, even if it isn't quite as prevalent or public. I hope if nothing else all of our publicity forces the rest of BVSD to recognize these things in their communities as well as ours and address them without stigmatizing it or convincing their students that it's too hard or impossible to do. It's a tough position to be in but it makes our student population feel like we're in some televised dystopia when other schools and even Colorado news sites refer to us as some novel example of something that is experienced in every school setting." 
As a district, we still have a lot of progress to make in order to reform issues like the current state of Title IX and dress code, but what Fairview is doing right now is vital and something everyone should keep up with, as it affects everyone, even us at Centaurus. We have to be supportive every step of the way and not downplay what they are doing in any way shape or form.
Read BVSD's policy on sexual harassment here.