Centaurus Marching Band Season – 2022
CHS Marching Band already setting records prior to State Finals.
It has been a thrilling season for the Centaurus Warrior Marching Band. After months of preparation and an exciting win at regionals, the band is busy getting ready for state finals, which will take place at the Air Force Academy in Colorado Springs on October 29.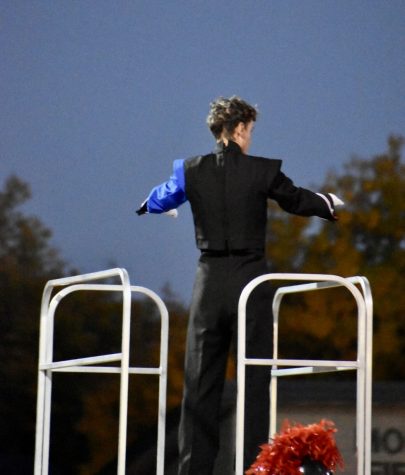 This year's show is titled Fly Away and tells the story of bird migration through four lyrical pieces: One Day I'll Fly Away, Ascend, Benedictus and Fly to Paradise. With the color guards' graceful dances and powerful music, this show brings its tale to life in a production that gives the audience goosebumps.
The students and staff have devoted hours and then more hours to the music, and the effort is evident; the product is incredible. "I think [the show] is really cool," said Keegan Gomez, one of the drum majors this season. "I'm really excited for what we do at state!"
On Monday, October 17, the band scored 84.055 at regionals, which is the highest score in Centaurus history. Isa Ogden, a senior who plays euphonium, remarked, "I think every season builds on the last one." The contributions of past students have led the band to where it is today.
During this last week of the season, the band will be working harder than ever towards state. But when it comes down to it, it's not about the score. When asked what the best part of band was, color guard member Asher Lee said, "I know a ton of people in band, it's probably like friends."
It truly has been a remarkable season, and the Centaurus Marching B
and is ready to finish out the year strong. State competitons are Saturday ,October 29th, in Colorado Springs.