Ms. Her Many Horses Wins LipSync Battle at Annual Winter Assembly
The annual Winter Assembly, featuring grade competitions, cheer performances, and the infamous teacher lip sync battle, was hosted in the gym by the student council on Thursday (Jan. 12th) during advisory.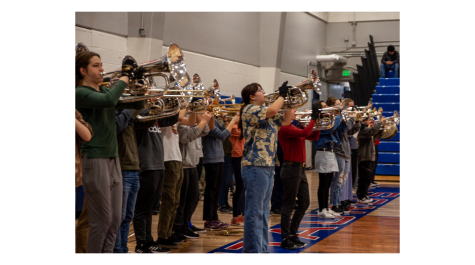 As students filed in from advisory classes, the Centaurus Band, Winter Guard, Poms, and Cheer teams were poised to welcome Warriors with various displays of school spirit, ranging from pyramid stunts to brass instruments. 
Mr. Rosine, Ms. Lombardi and Ms. Lohr won the teacher award, and were presented with flowers and cheers from the student body. 
There were 4 acts in the Teacher LipSync battle this year. Mr. Wood garnered student attention with elaborate props during his performance of "Friday" by Rebecca Black, in which he and 4 students attempted to recreate the music video by holding up posters of lyrics and "driving" around a large cardboard car. Mr. Mason also attracted applause with his performance of "Steal My Girl" by One Direction, with Ms. Mason as a guest star.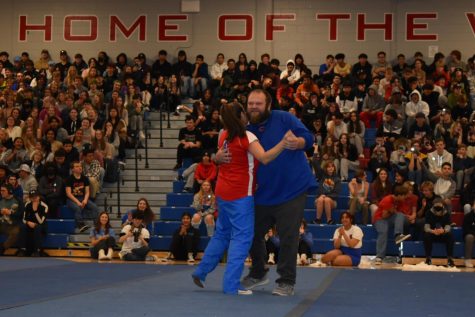 Ms. Her Many Horses ended up taking home the winning trophy with her rendition of "Bidi Bidi Bom Bom" by Selena. She danced and swayed as students shone cell phone flashlights to the rhythm of the song, expanding on her performance last year and pushing her over the edge as this year's victor (according to the student Applause-O-Meter). 
She remarked that it felt "exhilarating" to be this year's champion: "I hope I made Selena proud". When asked how it felt to beat last year's champions, Her Many Horses stated, "It just means they have to get on my level for next year."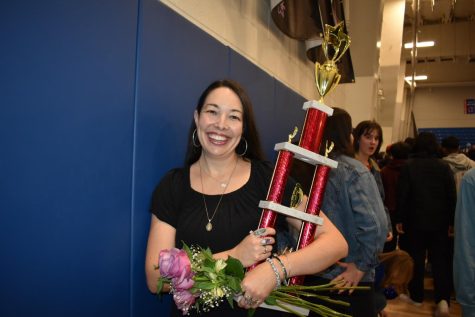 The assembly kicked off the second semester with the goal of raising school spirit, as it's done for years and will do for many more to come.
 View the gallery below to see more photos from the assembly.