Girls Swim Team Wins Leagues, Sends 7 Swimmers to State Championship
On the 3rd and 4th of February, the Centaurus girls swim team competed in and won leagues. The Northern Colorado Athletics Conference (leagues) is the swimmer's last opportunity to meet the times required to qualify for states. It's also the last chance they have to swim together as a whole team. It lasts for two days, consisting of preliminaries on the first day and finals on the next, with the top 20 getting to compete in the finals.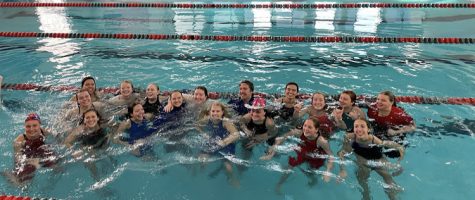 This year, there were 9 schools (including CHS) in attendance. Centaurus was neck and neck for the win with Silver Creek during most of the conference, and it was the relay that helped secure the win. The relay team, composed of underclassmen Virginia Walsh, Brayde Patik, Ayla Cole, and Abby FItzgerald, dominated the race. This helped boost Centaurus' score because relays are worth double points. The Warriors also finished top four in many other races. They ended with a final score of 381, beating out Silver Creek by only nine points. 
Tallis Kent, one of the captains and a swimmer in the 100 butterfly and 200 individual medley, spoke about the team and what it took to get to leagues.  The team practiced two hours a day for six days a week during their season. They also had a lot of meets leading up to leagues and states—sometimes two a week. Despite the intense season, the swim team was a very rewarding and enjoyable experience for most.  "Practices can be long and hard but it's the girls that make it fun," said Kent. She also talked about the amazing swim team community and how they grew together throughout the season, saying "It's a really good group of girls that swim".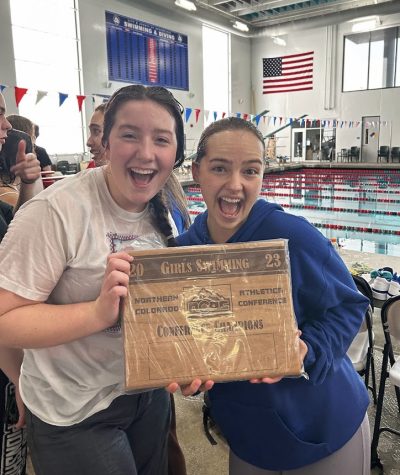 Winning leagues was a huge accomplishment for Centaurus, especially since it was the first time they had won in over twenty years. It was also a testament to the incredible effort put in by the entire team. After their victory at leagues, seven Warriors went on to compete in the state championships. With this year's season finished, the team – filled with many underclassmen – hopes to grow and improve in these coming years.