Wakanda Forever: Movie review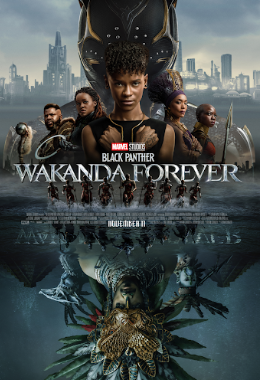 Black Panther: Wakanda Forever
Released: November 11, 2022
Directed by: Ryan Coogler
Starring: Letitia Wright, Lupita Nyong'o, Danai Gurira, Tenoch Huerta Mejía, Angela Bassett
Warning! This review contains spoilers
As the sequel to one of the greatest Marvel movies ever, Black Panther: Wakanda Forever had big shoes to fill. While a great action movie, with plenty of fight scenes and clever one-liners, the film "stands out from a somewhat formulaic era of Marvel movies: held together by its compelling sense of place, and by acting as a passionate eulogy for Chadwick Boseman". The late Boseman, who served as the lead for Black Panther back in 2018, sadly passed away due to colon cancer, suffering in silence after never announcing his diagnosis and pushing through the pain to continue filming more movies. Coogler and his team of writers blend this very real death into his character, T'Challa, and in the movie he passes on due to an unnamed disease. The following funeral sequence  contrasts that of Tony Stark's funeral, which focused on the sadness and grief that the other characters carried. Instead, T'Challa's funeral was a celebration of his life, with singing and dancing in the streets of the more rural end of Wakanda. Following his death, however, his sister Shuri experiences immense waves of grief and also regret because she feels that she could have done something to help. Through Shuri, the film explores the topics of grief and the importance of maintaining close relationships with others.
Following the death of King T'Challa, the lack of definitive leadership and protection triggers an international gold rush for Wakandan resources. Thinking that Wakanda had been brought to its knees, other countries move in to pillage resources. Queen Ramonda quickly informs them that Wakanda remains the strongest nation on Earth in a UN meeting. Diplomats are told to search for vibranium elsewhere, a task intended to be impossible. However, using new technology, vibranium is discovered on the ocean floor. Unfortunately, this lies in the domain of Namor, king of Talokan. Talokan is a fabled city of Aztec origin, said to be the resting place of those who have fallen victim to the sea. The choice to use Talokan rather than Atlantis has been argued about, but an almost unanimous response from the public has said that it was a fabulous decision. As said by ScreenRant, "Talocan allows Marvel to create a unique new world, rather than a place based on old, preconceived notions about Atlantis" and they really took this to heart, creating one of the most beautiful sequences that I've ever seen, panning over different aspects of the underwater world.
Namor informs the Wakandans that he blames them for the discovery of underwater vibranium after they dared the world to find the rare material anywhere else. He also gives them the opportunity to hand over the scientist responsible for the technology that was able to find the vibranium, or he will wage war on Wakanda. After Queen Ramonda refuses to give up the scientist, Riri Williams, to be executed, Namor leads Talocan in a brutal attack on Wakanda. In the aftermath of the battle, Shuri finds that her mother had drowned while saving Riri. Driven by rage, she recreates the herb that gave the Black Panther strength in order to take it and seek vengeance against Namor. Within the ancestral plane, Killmonger tells her to "take care of business", unlike the diplomatic or empathetic approaches of her late family members. Shuri plans and executes an attack on the underwater nation, but decides against striking the final blow to Namore and instead opts for a peace treaty. Although very cliche, this lesson of choosing not based on anger but instead with compassion is very important.
This film was more emotionally charged than most other Marvel films, focusing on world-building instead of action. Handling the death of Chadwich Boseman and effectively T'Challa could have been a disaster, but Coogler and his team of writers handled it beautifully, guiding Shuri through the grieving process and finally allowing her closure by the end of the film with her burning her funeral robes. I love the decisions they made to bring us further into Wakandan traditions and culture, while also introducing us to a never seen before underwater realm. The stylistic differences in the clothing and architecture of Talocan was fascinating to see and I really like how both cultures blend their hyper-advanced technology with traditional clothing and jewelry. All this being said, the third act of the film was a bit shaky, resulting in a CGI battle involving unrealistically small amounts of blood for the blows given, such as massive gashes from Shuri's claws and Namor stabbing Shuri through the stomach. Also, the introduction of the Midnight Angel suits along with Riri's ironheart suit made all of these unique and interesting characters blend together into wannabe Iron Mans. Despite these complaints, the film was very good overall and I highly recommend watching it as it stands apart from a lot of recent Marvel projects and is a great film about the importance of support, understanding others, and working through grief and loss. 
Black Panther: Wakanda Forever was the last film of Phase 4, meaning that from now on, Marvel is in a new era of movies. I'm very interested in seeing where Marvel takes this and where these new characters fit into the ever-expanding puzzle.