Three Cheers for Cheer
"V-i-c-t-o-r-y, that's the warrior battle cry! … The victory cheer is probably my favorite, even though we don't get to do it that often," says Maya Hess, one of two cheer captains of the 2021-2022 CHS Cheer team.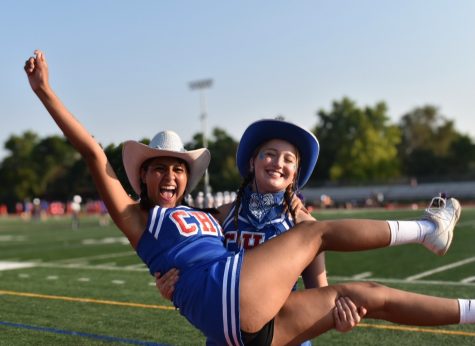 Up until very recently, the cheer team has been entirely student-led. The team had a coach and an assistant coach, but both quit for time commitment reasons, and the team was being run by the two captains: Maya Hess (she/her) and Ixchel Ramirez (she/her), both Seniors.
It's been a hard couple of years for the team: first COVID, and then no coaches. Having no coach has brought along many challenges: not being able to practice at school, for starters."We usually just go to Waneka and practice, since we can't practice at school…Thursdays or Fridays we have games", Ixchel explained. The brunt of the organizing was being done by the students, trying to work around CHSAA requirements (like having a certified adult to oversee stunting) as the search for a coach continued. 
During the interview, the rest of the team warmed up for the second home game of the season, glitter falling off their faces and onto the track.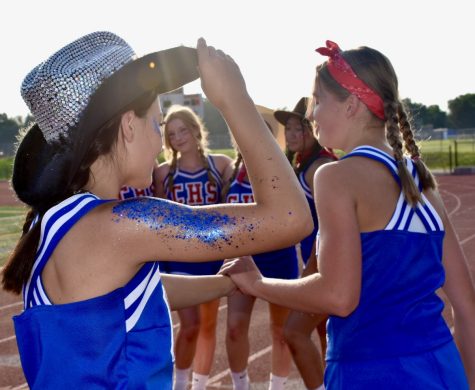 "It's really hard to regulate people's respect, especially when you're a similar age to them and don't have the actual title of running coach…people will still step out of line because they don't think we have authority, but we're basically head coaches," says Maya. Ixchel adds: "Ya, we're making everything happen". 
Up until tryouts, the team was expecting to have a coach. The head coach told the team at their annual cheer camp that this would be her last season because she wanted to spend more time with her family. "At that time our assistant coach was going to take over; she didn't know she would be quitting" said Ixchel. And then she quit too, right after tryouts. Maya continued,"She had to step down so she could go back to school." The girls were clearly on the same wavelength, because then Ixchel added "Otherwise she would have lost all her hours and had to pay a bunch of extra money, which is understandable, but frustrating". She gave the team almost no warning: Maya said "I was away so I just got an email saying 'sorry!'"  Ixchel cuts in,"Ya, We had one more practice with her and then we were on our own."
The team began searching for a new coach. Maya explained: "They didn't like set anything up for us, they didn't give us any references or anything.." Ixchel added: "They didn't even order our uniforms". Cue a series of almost hirings and lots of confusion as the season started up and the scramble continued. They tried to get parent sponsors and run it more as a club, Ixchel reached out to anyone and everyone, potential coaches fell through, but the show must go on. "So it's been us for like a month now." said Maya.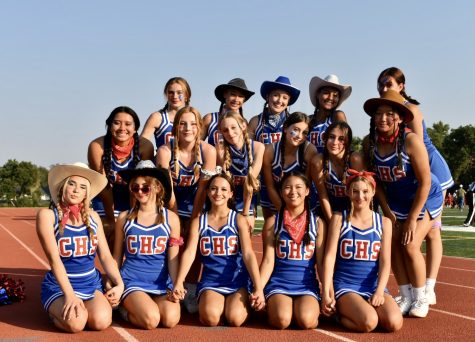 With 16 members, the team is small but mighty – just enough to set up 4 stunt groups. It's made up of five freshmen, seven sophomores, two juniors, and three seniors. Only the seniors really remember the team before COVID. According to Ixchel "There's one co-captain but she wasn't on the team before COVID, and therefore doesn't really know what a real season is like".
Most people who join a high school sport, like Sabina (a freshman and secondary-base on the CHS cheer team), cite their motive as, "[thinking] it would be a really good way to get to know new people and really just make new connections and friendships". For a cheer team, this goes beyond a perfunctory incentive to get involved: it is a core value. 
A unified environment is the key to strong performances, especially for a sport like cheer. To quote Ixchel, "[the cheer team] gives me a family… These people are… my best friends… I hang out with them all the time!" The months the team spent without a coach were a definite struggle, but the relationships that resulted between the cheerleaders will be valuable to the team's success this season. Even at the time, they were all laughing and mingling.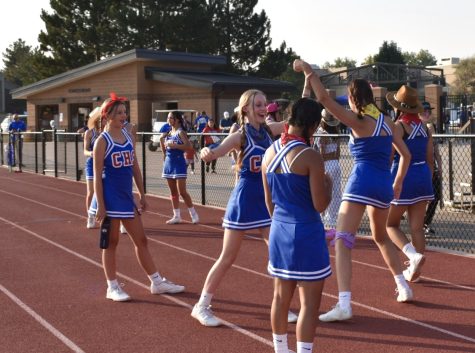 After realizing that it was up to them, the captains took  initiative, and their perseverance shows: Our student section is always hyped up and excited, no matter the score outcome. These students put their hearts into cheer, taking responsibility to keep something they love alive. As leaders of school spirit, the CHS cheer team has worked really hard to be able to perform for everyone this year. Those who watched cheer's assembly performance or have seen their football sidelines agree that the CHS cheer team has pulled together in their moment of hardship. According to Maya, "People have said that our team is better than ever!"
Many team members have appreciated the leadership that Maya and Ixchel have provided this year, including Sabina. "They have been really stepping up lately, just because we don't have a coach right now, I'm really impressed that they have been making a bunch of routines for us and really taking charge and I think they are doing really great." 
The captains' passion and diligence have brought the team far, but they can only do so much without a coach. When asked what the cheer team's greatest struggle this year is, Sabina responds "Probably just not having a coach, because it's harder to learn things… it's also just really hard not to have that person who really keeps track of everything". 
There is hope on the horizon for CHS cheer. After months of searching, Centaurus's athletic director, Mrs. Murphy, has finally found a new coach for the team! This is huge because it allows cheer to be recognized by the school as a full-fledged sports team, and opens up opportunities for them to compete. The new coach, Carrie Roswell, was on Boulder High's poms team, and later, was a Denver Broncos cheerleader. With a coach, cheer will be able to hire a choreographer, compete, stunt, and conduct practices at school. Hopes are high that this new coach will be the cherry on top of a team that has already performed admirably this year.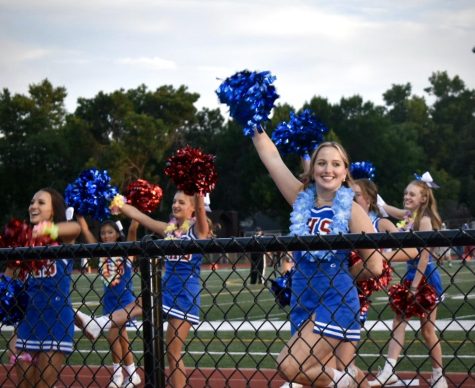 Maya thinks the future of CHS cheer is promising. "I hope that we get to compete, and I hope that Ixchel and I get to keep our leadership positions, just with more formal authority [provided the new coach], so that we can do what we have been doing to the fullest extent and make our team the best it can be."