Centaurus Hosts First Eco-Tober Lafayette Sutainability Fair
Centaurus hosted the first annual Eco-Tober sustainability fair on Sunday, October 2nd. Music blasted out of speakers powered by bicycles as bubbles poured out in the background.  Little kids walked around holding solar-baked cookies and trading halloween costumes. Families stood contemplating electric cars or learning about local climate solutions. 
The event was put on by the City of Lafayette, and featured "over 50 exhibitors, a performance by Jeff and Paige, hands-on workshops, and interactive activities for a fun family-friendly event" as stated by the city website. The purpose of the event was "to envision and create healthy, resilient, and sustainable communities in Boulder County" (website page). Recently, the city has been upping their sustainability efforts, including instituting a plastic bag tax that will go into effect in the new year.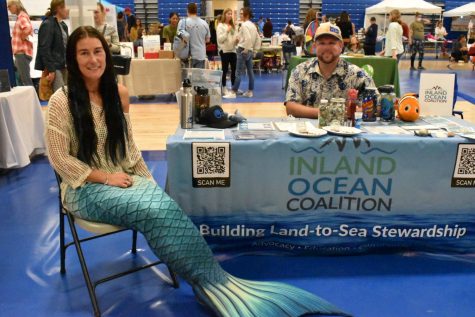 Notable booths included the Community Cycle's tent, which is a non-profit based in Boulder that advocates for safer infrastructure and expanded access to cycling; the Inland Ocean Coalition booth, featuring a mermaid who educated attendees about their impact on oceans and how they can help while living in an inland state; the tiny house presented by XCEL energy that demonstrated various ways to make homes more energy efficient; and the exhibition of a Rivian plug-in SUV (one of only a couple thousand in the nation) as production kicks into gear for the electric vehicle. 
Centaurus Eco-Warriors and DECA club also presented booths, staffed with student volunteers. 
DECA students eagerly explained the program to passersby, as well as their purpose at Eco-Tober. "We're promoting the "all careers" contest, which is basically an opportunity for [high school students and groups] to take their business ideas, whether it be a layout for something like a greywater treatment system or maybe even solar powered traffic lights [and submit them to the contest]. And whoever [has] the most sustainable/efficient way to save money and allow our community to be more green, wins the contest! The contest is March 23rd, and if they win, they can win up to $1,000 dollars," explained Kameron Lavender (10th grade, she/her), CEO of Centaurus DECA.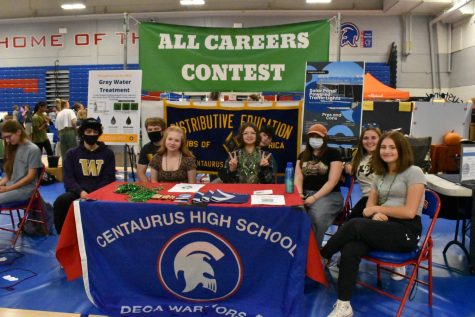 DECA plans to encourage students to participate by writing their manuals (a part of DECA competitions that involve outlining a business idea) on sustainability topics and submitting them to the competition. They will be able to use the manuals qualify for state competitions under DECA as well, maximizing the efficiency and impact of their work."It's the officer's job to come to these different events and make sure that we're teaching these volunteers how to do the booth's properly… and then the rest of the students are [earning] volunteer hours. It's also a community service thing," Lavender elaborated.
Eco-Warriors had a neighboring table that consisted of examples of the club's past work, such as the tree-plenish planting event in spring of 2022, as well as a kid-friendly game involving sorting waste into trash, compost, and recycling.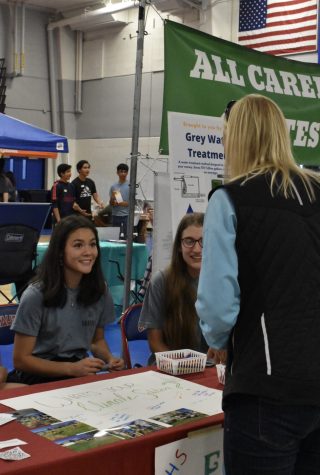 State representative Tracey Barnett stopped by the booth to speak with the club members about the importance of student activism. Barnett thanked them for their work, and encouraged them to engage in the civil process. "If students come and testify on bills, you have an outside impact." Eco-Warriors co-president Bella Oliver (12th grade, she/her) mentioned a paper she was writing surrounding regenerative farming, to which Barnett responded, "You have my email. Send me your paper."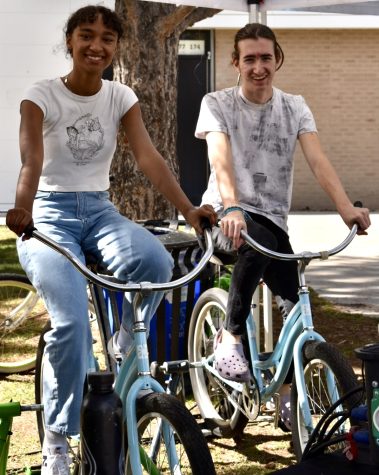 Some National Honor Society students also volunteered for the event, and there were students from other BVSD schools like Fairview and Peak-to-Peak: "We hope that people might try to be more cautious or eco-friendly after learning how big of a problem it is," stated Janush Shekhar (he/him), a ninth grader at Peak-to-Peak. Their booth featured an array of facts about sustainability and environmental impact (Did you know that only 9% of all plastic waste ever created has been successfully recycled?) on brightly colored papers.
Many younger BVSD students attended the event as well. Luna Mayer, a 3rd grader at Pioneer, created a spooky pumpkin head in the recycled fashion workshop, while Stellan Benson-Vanek (3rd grade at BCSIS) enjoyed the Open Energi station. Other kids could be seen participating in various STEM learning activities, the halloween costume swap, and the sustainability storytime. 
Overall, the event provided a fun way to learn about sustainability and engage the whole community in climate solutions.