Student Walkout for Reproductive Rights
THURSDAY, MAY 12TH- Students participated in a walkout for reproductive rights during 4th period. The walkout drew over a hundred students, from all grades, genders, and backgrounds. 
The protesters walked from campus down to the intersection of South Boulder and 287,  armed with hastily made D-I-Y signs and all the anger they could muster. They gathered on all four street corners.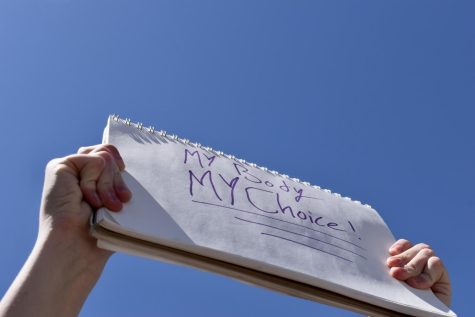 "I was shocked at the number of people who participated because I didn't think that a majority of the school was pro-choice. I was feeling excited about that, but also pure anger and disgust that we are being pushed back in history where the rights of women are questioned. It enrages me that the choice of bodily autonomy is a legal debate in 2022″, Finley Miranda (she/her), a student activist and junior at Centaurus, stated. 
The protest was planned in conjunction with nationwide student walkouts following the leak of the supreme court draft opinion on Monday, May 3rd. that would overturn Roe v. Wade.  
Abortion is legal at all stages of pregnancy in Colorado, and will remain so according to Governor Jared Polis. Despite this, students participated to show their support for community members who have had or will have abortions, as well as to signal to Colorado lawmakers that this is something young voters care about. "[We] wanted to send the message to the people driving by that we sacrificed our education to show our lawmakers and people in power that [reproductive rights] are important," Miranda said. 
The walkout definitely garnered the attention of others. Throughout the event, cars honked to show support as they sped through the busy intersection.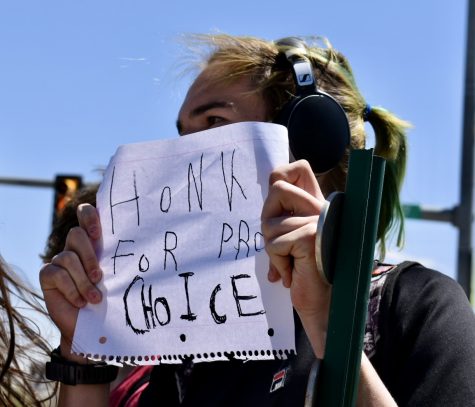 The Daily Camera also ran a story about it: "…Hundreds of students from Centaurus High skipped afternoon lessons Thursday to line the sidewalks of South Boulder Road… They were participating in a staged walkout to support women's reproductive rights. Walkouts occurred Thursday at several schools across the state, including those in Erie, Lafayette, Longmont, Louisville, Wheat Ridge, Lakewood, and Golden." Camera Reporter Mitchell Byars posted on twitter to warn people of the large group, stating that students may be on the road as the crowd grew. Additionally, many teachers anonymously expressed that, had they not been bound by contract, they would have joined the march. 
Although the walkout came together rather quickly, it was not just an excuse to ditch class. Many students have deep rooted feelings about the issue. Sophomore Riley Levin (she/her) holds an adamant belief in the separation of church and state. "Those backing the actions of the Supreme Court use religious and moral beliefs as justification for the dehumanization of women…This is one of many examples of religion being used to make oppression acceptable. Christian beliefs cannot be a valid reasoning, based on the fact that not everyone is a Christian. Being someone who doesn't identify with the Christian faith, it is extremely frustrating to see other religious views forced upon Non-Christians. Abortion is a personal choice and it is every woman's right to choose. If having an abortion doesn't align with someone's religion, they have every right in the world to not have an abortion, just as much of a right as someone who wants an abortion."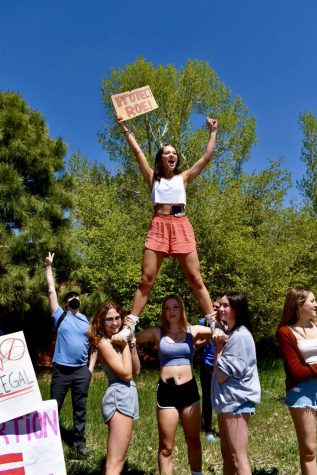 Miranda agreed that this decision would further oppression of minority groups. "The overturning of Roe v. Wade is an assault on the human rights of women, transgender people, non-binary and gender non-conforming folks, people of colour, Black Americans, and all minorities within this country…These laws are showing young women that their role in society is to be baby makers without rights of their own." 
During the walkout, students chanted sayings meant to display these sentiments in short, memorable ways. For example, "F*ck the court and the legislators, women are not incubators!" could be heard across the intersection and seen on several protest signs, including that of Miranda herself.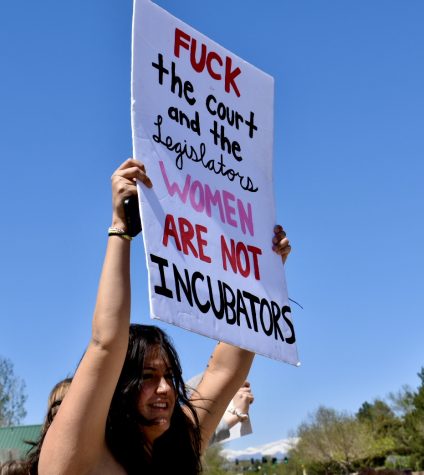 Miranda also emphasized that there are many other ways to help the cause, beyond protesting. "If Roe falls, Colorado will remain one of the only states in our region that will still have accessible abortions. Donating to funds that help provide travelling and abortion costs for people across the country is the biggest way you can contribute to the fight…[students] can also write and call lawmakers to help keep women's rights protected [in the state of Colorado]." 
As trigger laws stand poised to tear down abortion protections in states like neighboring Utah, Pro-choice Coloradans, CHS students and Miranda included, want to display safety and support for those seeking care.  "Birth control, abortion, and reproductive health remain legal in Colorado, and we continue to have the freedom to make decisions on what to do with our bodies," Miranda adds. She hopes that this state "will inspire the rest of the country to protect reproductive rights.'