What is Black History Month?
The history of Black History Month and some ways to celebrate
Although it is the shortest month of the year, Black History Month, which is sometimes called February, has a lot worth celebrating.
Black and African American culture is the backbone of modern culture, as several aspects of modern culture come from Black culture itself. Black History Month aims to spotlight events, people, and aspects of Black history that are overlooked. This month originated in 1915 when two Black men, Carter G. Woodson and Jesse E. Moorland, founded the Association for Study of Negro Life and History, which was focused on researching and promoting achievements by Black Americans or people of African descent. Later on, in 1926, the Association for the Study of African American Life and History (ASALH) helped to sponsor a National Negro History Week during the second week of February which also is the same week as Fredrick Douglass and Abraham Lincoln's birthdays. This event inspired communities nationwide to organize and celebrate black culture while also learning about it. By the 1960s, with aid from the Civil Rights Movement shining more of a light on the Black experience, the week-long celebration became Black History Month on college campuses. However, it was not until 1976 that President Gerald Ford would officially recognize Black History Month and called upon the U.S. citizens to "seize the opportunity to honor the too-often neglected accomplishments of Black Americans in every area of endeavor throughout our history."
How To Celebrate:
One way to celebrate Black History Month is through education. Black history is often overlooked in schools' curriculums, so it's important that we take this month to educate ourselves about the impact and importance of Black culture.
For your educational enjoyment, here is list of people, and culturally important aspects of society that have come from African Americans:
AAVE: African American Vernacular English or AAVE is used to characterize the language or terms used primarily by African American people. Some include: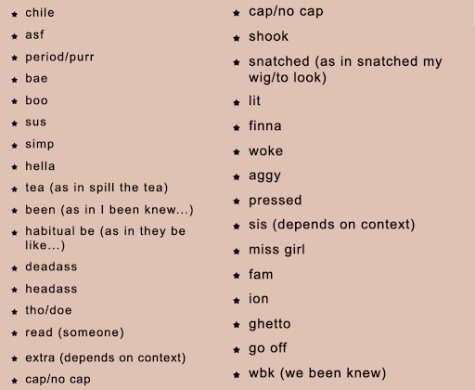 Many types of music including blues, rock, roll, country, jazz, k-pop, rap, and hip-hop, all have roots in black culture.
Along with musical styles, many dance styles have roots in black culture. This also holds true for much of modern cuisine.
Holidays and cultural institutions:
Kwanzaa: An annual celebration of African-American culture from December 26 to January 1, culminating in a communal feast called Karamu, which is usually on the sixth day. It was created by activist Maulana Karenga, based on African harvest festival traditions from various parts of Africa, including West and Southeast Africa. Kwanzaa was first celebrated in 1966.
Juneteenth: Juneteenth is celebrated on June 19th. It historically marks the day of emancipation for the slaves in Texas, which was the last state in the confederacy to have institutional slavery; two years after the Emancipation Proclamation.
HBCUs: Historically black colleges and universities (HBCUs) are institutions of higher education created before the Civil Rights Act which focused to create a safe space for African American students to seek out higher education, and be involved in their culture as well.
Figures:
There are many important figures in Black history such as Rosa Parks, Harriet Tubman, and Martin Luther King Jr. but there are many hidden figures as well:
Malcolm X: Malcolm X was an African American civil rights activist. He grew in popularity due to his opposition to MLK and peaceful protesting in order for change to happen. He was more vocal about protesting in more violent manners, treating white people as they had once treated them. He didn't care to appeal to white audiences. He said what he hated and who he hated, and he made his opinions very clear without sugar-coating.
Oscar Micheaux:  Oscar Micheaux was an African American author and considered to be the first African American filmmaker, focusing on race films that were made for audiences of minority groups. He has also been awarded a Directors Guild of America Award: 1986 Golden Jubilee Special Award and a spot on the Hollywood Walk of Fame.
Della Reese: Della was an African American singer, and after being given the opportunity, Della became one of the first black women to have a talk show, starting in 1969. It was titled "Della" and had guests such as Marvin Gaye.
Ledger Smith: Ledger Smith or "Roller Man" traveled 10 days from Chicago, Illinois by rollerskate to the March on Washington to see Martin Luther King Jr's "I Have a Dream" speech. During the trip, he wore a sash with  the word "freedom" on it, and many people took notice, especially those heading to the March themselves. Smiths' purpose was to dramatize the intentions of the March by "doing it in the slowest way possible" which would, of course, bring attention to it.
Claudette Colvin: At 15, Claudette Colvin refused to give up her seat on a bus to a white woman, 9 months before Rosa Parks did. According to her, the bus driver had ordered her to get up and she refused because she had paid her fare and it was her constitutional right. Two police officers put her in handcuffs and arrested her, forcibly removing her from the bus.
Marsha P. Johnson: Marsha P. Johnson is a transgender woman who has many roots in the rise of gay culture and Stonewall. She was a founding member of the Gay Liberation Front and co-founded the activist group Street Tranvestite Action Revolutionaries or S.T.A.R alongside Sylvia Riveria. Along with all that Marsha was very prominent in New York City's gay and art scene, modeling for Andy Warhol and performing onstage with the drag troupe Hot Peaches. From 1987 to 1992 Johnson was an AIDs activist with ACT UP.
Book Recommendations:
Reading books by Black authors is a great way to uplift their voices and learn about African American culture and history. Below you will find four recommendations  for books written by Black authors, and recommended by Black booksellers to start reading this Black History Month.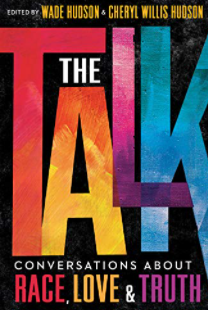 1) The Talk: Conversations about Race, Love, and Truth is a collection of short stories that call for change and anti-racism through the perspectives of 30 diverse award-winning illustrators and authors.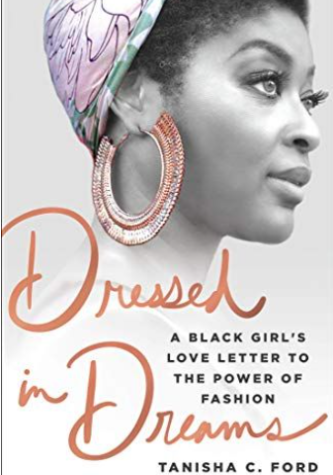 2) Dressed in Dreams: A Black Girl's Love Letter to the Power of Fashion is a story that celebrates Black innovation. It's written by Tanisha C. Ford, an expert in the history of Black fashion."[The book] Explains things like the importance of knockoff culture; the role of "ghetto fabulous" full-length furs and colorful leather in the 1990s; how Black girls make magic out of a dollar store t-shirt, rhinestones, and airbrushed paint; and Black parents' emphasis on dressing nice. Ford talks about the pain of  "seeing Black style appropriated by the mainstream fashion industry and fashion's power, especially in middle America."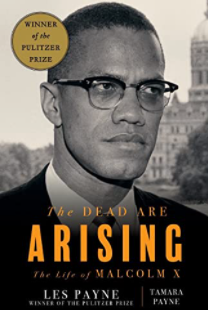 3) The Dead Are Arising- The Life of Malcolm X-The author, Les Payne, spent 30 years interviewing anyone who knew Malcolm X to put together an incredibly detailed historical biography of his life.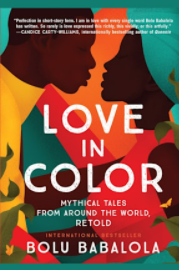 4)Love in color, By Bolu Babalola- A collection of short love stories that are based in history, magical folktales of West Africa, Greek myths, and more. The collection is a celebration of love and diversity.
Movie Recommendations:
Dreamgirls
Hidden Figures
Rodgers & Hammerstein's Cinderella
Princess and the Frog
The Proud Family Movie
Drumline
The Fighting Temptations
Jump In!
Love and Basketball
Black Is King
Dear White People
TV Shows:
The Proud Family
OK KO: Let's Be Heroes
Abbott Elementary
That's So Raven
Insecure
Watchmen
Black-ish
Atlanta
Bel Air
Playlist:
Donate- 
Thurgood Marshall College Fund

Share Black History with others!