Mr. Ryan, Mr. DiLaura Switch Places, No One Notices
The office was operating as usual on Friday, March 24th—or at least it seemed to be.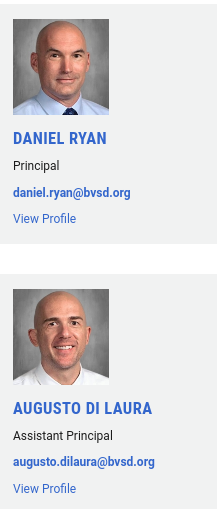 This article was produced as part of our annual satire edition, and is entirely satirical. 
The office was operating as usual on Friday, March 24th—or at least it seemed to be. The administrators were at work in their offices, attendance forms were turned in, students visited the health room, and everyone was excited for break. But something had gone unnoticed: Mr. Ryan and Mr. DiLaura had switched places. 
The principal and assistant principal switched positions only for the duration of the school day. What was already a weird experience for the duo—switching jobs without any training proved difficult—became even weirder when they realized that no one had noticed their switch. 
The two reported planning the switch as a spring break prank for the office staff. "We wanted to ease the tension, maybe get a few laughs," said DiLaura in an interview with the Troll, "It wasn't meant to be testing how well they knew us." 
With so many hair deprived, fair-skinned men working at CHS, students and staff sometimes have trouble differentiating. "Everytime I see them, I have to stop and think, Which one is that again?" said freshman Harmony Williams, "My middle school only had one bald white guy; it's taken some getting used to." Other students echoed her sentiments: "I just assumed that CHS admin operated similarly to the Blue Man Group," said one sophomore. 
Some say that mishaps like the 3/24 incident are bound to happen given the proximity of the two's job titles and their similar appearances. The difference between 'Principal' and 'Assistant Principal' is often small to the average student. "I understand that the students don't get what we do. But my coworkers? I would have thought they knew better," said Mr. Ryan. Following the incident, the Troll is developing a "Glabrous Directory" as a resource for the school community. 
Centaurus has the highest percentage of bald, fair-skinned men in the district. When asked to comment on this, Principal Ryan stated: "Just one more way that CHS is above the rest!"
The office staff is returning to business as usual after break, with everyone in their stated job positions…we think.