Winter Percussion Off to a Great Start with Two First-Place Wins
The Centaurus Winter Percussion Ensemble started their competition circuit with back-to-back first place wins on Saturdays March 4th and 11th, performing their 2023 show entitled "Mantra".
CHS hosted a total of 39 schools for a Rocky Mountain Percussion Tournament on March 4th. As students pushed large marimbas and set pieces through the gym doors, spectators filled the stands waiting to experience the performances.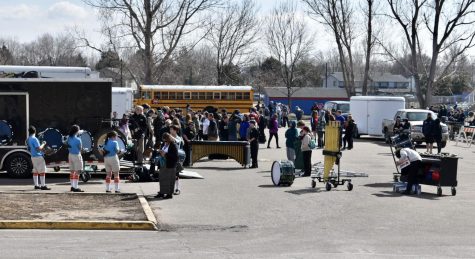 The Centaurus Winter Percussion Ensemble finished first in Scholastic A Class with a final score of 80. "It was a really high score for the first show," said Lily Adams (they/them), a sophomore who plays vibraphone. Adams was chosen for retreat at the March 4th performance, meaning they were the one who received the prize from the judges on behalf of the Centaurus Ensemble. "Our group picks the people who they think really deserve [to do retreat], so it meant a lot. Especially since last year I watched a lot of Seniors I looked up to do it."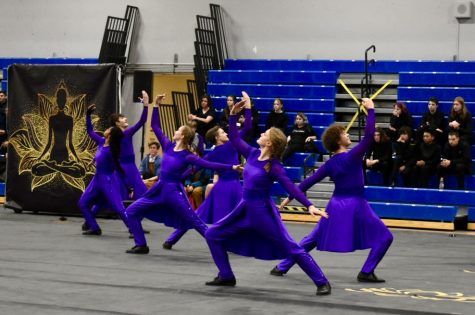 Winter percussion consists of a battery ensemble (the people who march with their instruments) and the front ensemble (stationary instruments like marimba and xylophone). The season begins in November and continues until Mid-April, with 5-6 competitions occurring from March-April.
The tournament is an annual event hosted by Centaurus, but it grew astronomically since last year, jumping from approximately 12 participating schools to 39, including two professional ensembles, Blue Knights and Rise Percussion. "A lot of the bands around the state come here because it's kind of a central point," Adams said.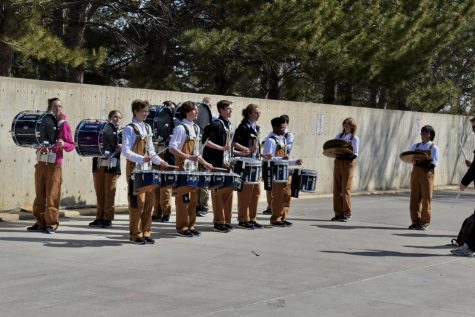 Winter Percussion also performed on Saturday, March 11th, again winning 1st place with a score of 86 at the WGI regionals competition. There will be a yet to be scheduled community performance hosted by the ensemble later in the season.