C-Squad Shoe Drive Running Through December 16th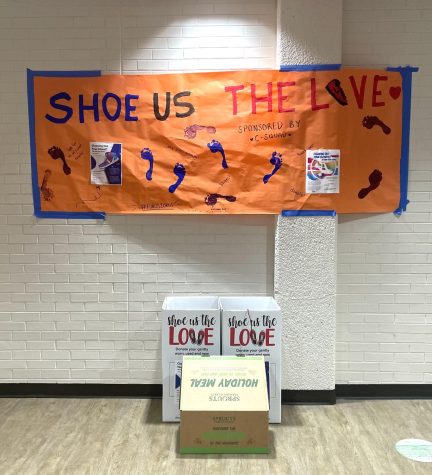 This month, through December 16, C-Squad is running a shoe drive. At the main entrance of the school (by the front office), you can find drop boxes waiting to be filled with new or used shoes. 
C-Squad is hoping to get as many donations as possible to help raise money for their program, and this is their biggest fundraiser of the year: "When we put on things like Cram-fest, it's hard to make money at those events. Usually they pretty much break even," said Ms. Turgel, one of C-Squad's sponsors. The program also doesn't receive abundant funding from the school district. With so many students participating, the shoe drive is incredibly important and a remarkable feat. 
The shoe drive does more than just benefit C-Squad, though. It's run through the nonprofit organization Funds2Orgs, which takes shoes to a third world country and gives them to someone, encouraging them to sell the shoes and come back with some of the profit to buy more. This process is called microenterprise, and it creates jobs for people in need. 
So, if you happen to be digging through your closet or stumble across a pair of shoes you don't need anymore, consider donating them to the shoe drive! Invite your family and friends to do the same. The shoes you are able to donate will be given a second life and have a positive impact on someone else.